Stationary Tools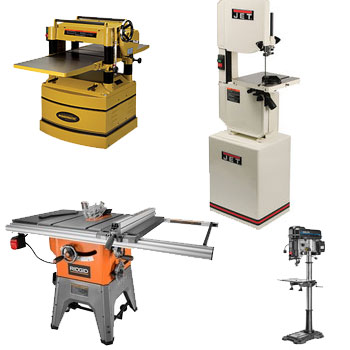 Stationary woodworking tools are called that because they are heavy, as in you put them into place and are happy to never have to move them again. They are heavy because they need to be. They need to be able to handle the vibration of fast moving blades cutting through wood.
Plus, you wouldn't want that tablesaw moving on you while you are pushing your stock through the blade, would you? Exactly!
Stationary Tool Placement
Because they are difficult to move, more often than not, the position of one of these large tools will determine the layout of your workshop. This is especially the case with tablesaws and wood planers where you need to have extra room for the infeed and outfeed of wood stock material.
Bandsaws, dust collectors, and drill presses can usually be placed against a wall and so can be positioned after the larger machines.
Bench Mounted Power Tools
Sometimes traditional stationary tools most often found in larger woodworking companies are just too large to fit in your workshop. Luckily there are options and you can purchase smaller versions of the same tools that can be affixed to your workbench instead of taking up valuable floor space.
Tools like the tablesaw and planer are available in smaller somewhat portable versions that give you the ability to put them a bit out the way when you are finished working with them, and still be able to do most of the same tasks. The main difference, for example with a planer, the width of the opening will be less however it will be still able to handle 99% of everything you probably need to do.