Power Tools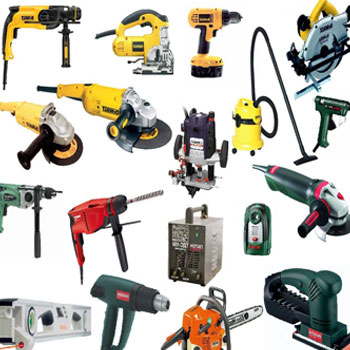 Ahh, power tools, or should we say electrical powered tools, as opposed to hand powered tools. Where would we be without them? Things would get done a lot slower that's for sure! But besides getting the job done quicker though, they alow for plenty more people to actually work with wood than would otherwise.
Think about it, if everyone had to use hand tools to build with, how difficult would it be to have the skills or even stamina to cut by hand for example. Power tools are definitely a great equalizer when it comes to woodworking.
Power Tool Reminder
Power tools definitely make woodworking easier, but what's the cost? When you make something faster and easier, there usually is a cost involved.
Well besides the actual money you pay for the tools (hand tools can cost just as much as power tools), the price some pay is in a visit to the hospital. Yup, fast spinning sharp things, as in metal blades, cut through flesh as well as wood unfortunately. But we are always careful, right?
Tools For Your Usage Level
One of the great things (or sometimes confusing things) about power tools is that whatever tool you are looking for, you will have plenty of choice to pick from. A woodworking hobbyist might require a different kind of tool than a woodworker in business that needs his tools to perform at a high level, day in and day out.
Luckily, the market accommodates everyone, as there are varying qualities of almost every tool. A piece of general woodworking advice, always try to buy the best tool that you can afford at the time.