Dust Collection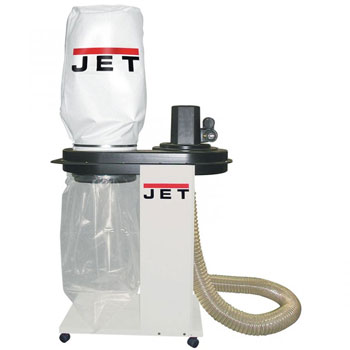 The removal of dust from the workshop is a problem that every woodworker has encountered. If you are working with smaller tools, then most probably you will be using a shopvac type machine that is easily connected to a miter saw and woodworking router for example.
Getting rid of the dust at the source is always better than having to deal with collecting/cleaning it up after a woodwork session. Not to mention the obvious health concerns with airborne wood dust, and even worse, mdf and particle board dust.
If you are in a larger area, it might be convienient to add a dedicated medium sized shop vacuum, or an even bigger 'industrial' dust collection system, with its associated tubing that connects to each tool.
Dust Collection System Design
If you are in need a large dust collection system, then you will have to plan a layout for the tubing. In order to keep enough pressure in the system, the shortest path to get from one tool to another will be goal.
Even if you are in a smaller shop and are using a large shopvac for your dust removel, you can still use some tubing to help yourself out so that you don't have to move the shopvac everytime you use a different tool.
The advantage to hooking up a tubing system, regardless of how large the vaccum is, is that you can hide the vacuum away in a cabinet of some sort (making sure there is adequate air supply) to reduce the noise level.