Biscuit Joiners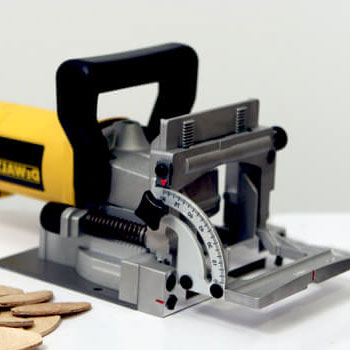 The biscuit joiner (or jointer) is somewhat specialized piece of woodworking equipment that will be used mostly when working with flat sheet good materials, although it does have other applications in furniture building. It is used in conjuction with a biscuit lamello ( an oval shaped thin piece of compressed wood) to join two pieces of wood stock together.
The biscuit joiner is designed to accurately cut slots into pieces of wood. The biscuit is then inserted into the slot and glued to another piece of wood that has also had a matching slot hole cut into it. The process is designed to both add strength to the glue up, and help align the pieces together.
Most biscuit joints are used on the edge of sheet stock (like 3/4 inch panels of mdf or particle boards for example), as there will be very little inherent connection between two pieces of processed wood. The biscuit provides an extra mechanical bond as it increases the surface area for the glue.
Biscuit joints are not often used in glue ups of real wood to real wood connections (except perhaps end to end grain) because the wood fibers combining with the glue will provide sufficient strength. However, when connecting long pieces of wood together, a biscuit joint can help with alignment issues and prevent the pieces from slipping away from their desired position after the glue is applied but before clamps can prevent unwanted movement.