Air Powered Tools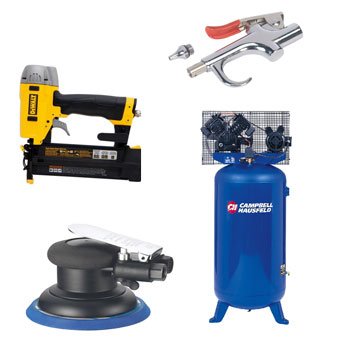 Air pressure, or pneumatic tools are powered by compressed air. Although there are many pneumatic tools to choose from in the auto industry, in woodworking, the most common types of these air powered hand tools are sanders, staple and nailing guns, and buffers.
Also quite common is to use the compressed air with a simple lever nozzle to blow wood dust (that the dust collector didn't capture) off of work tables and pieces. This is especially usefull before finishing.

Air Compressor
Of course, you also need a compressor to run these tools. If you are doing mostly only nailing operations, then a small compressor will be necessary. However, if you want to use an orbital sander for more than a few seconds, a larger tank will be required.
You'll want to put a larger compressor tank in an out of the way place, perhaps behind some noise reduction compartment. Then, run your air line tubing up above your head so that it drops down near your work area. That way you don't trip on air hoses running on the floor.
Why Use Air Powered Tools
One of the main reasons why pneumatic tools are used is to reduce the weight of the machine that you are holding in your hand. That's why the most common air pressured woodworking tool is the orbital sander. Sanding through all the grits can get tedious, and if you are pushing an electrical, motor ladened sander, it can get rather tiring as well. An iron powered sander is a much lighter machine.
Of course, there's no comparison to a brad nailer, or pin nailer. You can't do what those tools do with a hammer and nail, even if you tried. The ease of use, and quickness that those air guns deliver is essential in many woodworking shops.