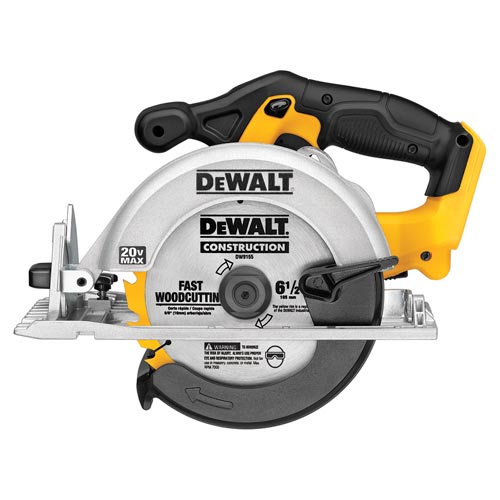 The DEWALT DCS391B 20-Volt MAX Li-Ion Circular Saw,
a new addition to the Dewalt line of cordless tools is a great step up from it's previous incarnation, namely the DC390B. There have been a few physical changes between the two models, however the biggest improvement has been the upgraded battery, from an 18V to a 20V.
Although the 18V DC390B performed well, the largest complaint about this circular saw model was that it just didn't have enough power to perform heavy duty woodworking tasks.
Of course a cordless tool will always under perform a corded tool. But the newer DCS391 model, with the stronger 20V Li-Ion battery, you may not be able to tell the difference.
For professional contractors that are out in the field, this is the model to get. It is somewhat more expensive than the 18V version (currently about $130 compared to $85 as of this writing). You won't have to baby this model though. When you are cutting, you won't have to slow down or think about the your cutting speed, you'll just cut.
The tool itself weighs 7 pounds, the 3Ah battery adds a bit less than 1.5 pounds, for a little over 8 pounds. However it is very well balanced and the portability and convenience make up for that.
Like most cordless saws, this is a "left handed" saw, which means that the blade is mounted to the left of the motor. To a right handed person, this means that when you cut along a marked line, the motor will not be in the way and you will be able to see where the blade is cutting.
Lets go through some of listed features from the Dewalt site:
Powerful 460 MWO (max watts out), 3700 RPM motor delivers power and speed to make the most demanding cuts with ease.

Very true, we had no trouble cross cutting through 2x4's and 2x6's without having to worry about the saw slowing down on us.

High strength and lightweight magnesium shoe provides job site durability for long-term cut accuracy.

We cannot comment on the durability issue as we have not field tested this model for any length of time yet, however it seems to be a standard issue metal base which doesn't look like it will cause any problems under continued use.


Optimized rubber overmolded comfort grip delivers optimal balance and control.

The grip is comfortable, and as stated before the tool is well balanced. While cutting with your right hand you will easily be able to see any cut line. You'll also need to press the safety button along with the trigger before the saw will activate.

0°-50° bevel capacity allows for aggressive bevel cuts for a multitude of applications.

Tilting the saw for bevel cuts is fairly straight forward. The angle gauge provides for easy angle adjustment. We didn't test for perfect accuracy however the preset angle alignments are close enough for what you would expect of a circular saw.

6-1/2" carbide tipped blade for cutting 2x material at 90° and 45° and more cuts per charge.

The included blade has 16 teeth and is good for carpentry. The saw uses a standard 5/8" arbor so changing over your blade to fit your task is not a problem.
The depth of cut at 90 degrees is 2-1/4". At 45 degrees it is 1-5/8 which just gets you through a 2x, at 1.5".
The battery of course is interchangeable with all the other 20V Dewalt products. Please be aware that when purchasing the DCS391 circular saw that the battery may not come with the saw, unless you are buying a 'kit' for example which will come with a charger and case.