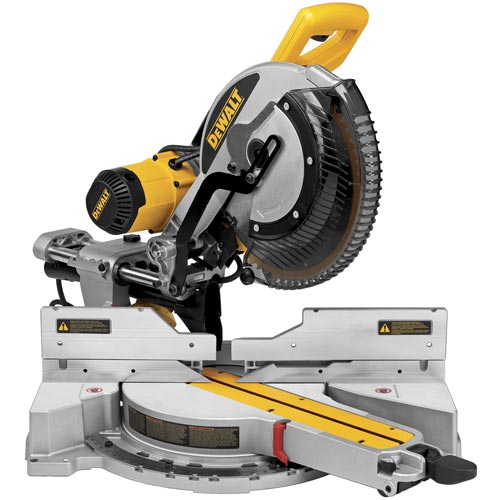 Here we have another sliding compound miter saw, this time the Dewalt DWS780. It is an upgrade from the previous DWS718 version. It has all the standard features you would expect of this kind of saw. This saw is priced at above the $500.00 level, bringing it more into the professional range of user. It is a bit of an overkill for the casual home weekend warrior. So with that in mind the review will be focusing on the professional use of the miter saw.

Here is a listing of the advertised features (taken from the Dewalt site) with comments from our experience as to when they come in useful.

Integrated XPS cross cut positioning system provides adjustment free cut line indication for better accuracy and visibility.

Review: The XPS light is perfectly aligned once the blade is brought down. As you bring the blade down, the shadow sharpens and you can see all the teeth in detail on whatever you are cutting. It shadows the teeth of the saw blade, but once you know where the teeth come down in relation to the line then you are set. Putting the blade close to the material in order to get an accurate line is recommended. This requires you to constantly lower the blade to get an accurate line. You might as well use the saw teeth at that point. Perhaps because it is a newer feature, maybe us 'old-timers' are just used to a laser line.

Powerful 15 Amp, 3,800 rpm motor delivers extended power and durability.

Review: There was no problem cutting through any of the hardwood material we tested.
Super efficient dust collection system captures over 75% of dust generated.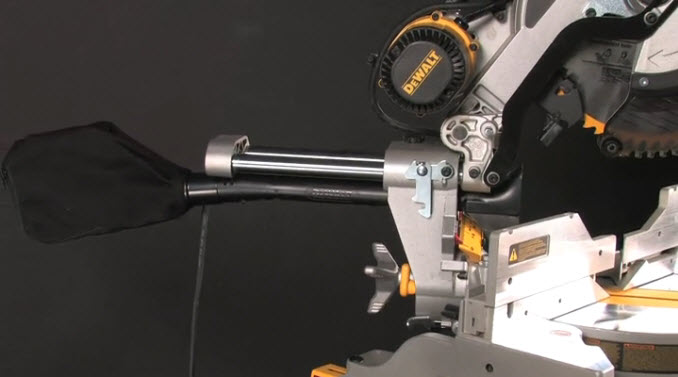 Review: Not quite super efficient from our point of view. Unless you are using a vacuum, a lot of dust gets thrown into the air. It is definitely not a saw you will want to use indoors frequently. Also,the dust bag hangs off from the rear of the machine which increases the amount of work space you need.

Tall sliding fences support crown molding up to 7-1/2" nested and base molding up to 6-3/4" vertically against the fence while easily sliding out of the way for bevel cuts

Review: The saw has the ability to be moved and locked slightly forward of the fence allowing you to cut 7 1/4" crown molding against the fence.
Exclusive Back Fence Design cuts up to 2x16 dimensional lumber at 90° and 2x12 at 45°.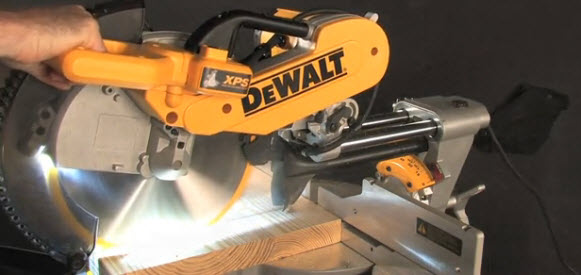 Review: The ability to cut 16" material is nice when you need to cut closet shelving for example.
Adjustable stainless steel miter detent plate with 10 positive stops improves productivity and ensures cutting accuracy
Miters 60° to the right and 50° to the left providing increased capacity.

Review: Great for when you cut skirt boards.
Over sized bevel scale makes bevel angle adjustments accurate and easy
Compact, lightweight design (56 lbs.) allows for easy transport and storage.
Review: Fairly compact when closed up. It weighs 56 pounds so it's not light, but at least it is not too bulky to move around.
Cam lock miter handle with detent override deliver quick and accurate miter angles.

Review: The bevel system is great. There are no detents to hassle with. You just pull the knob and move the angle where you want to. When you return it, the saw will lock to zero.
Dual horizontal steel rails with innovative clamping mechanism and linear ball bearings deliver an accurate, durable and compact saw.
Innovative gearbox and belt-drive design increases vertical cutting capacity
Precise miter system and machined base fence support optimize durability and cutting accuracy.

Review: This works very well. There was little if no movement once the desired angles was locked in.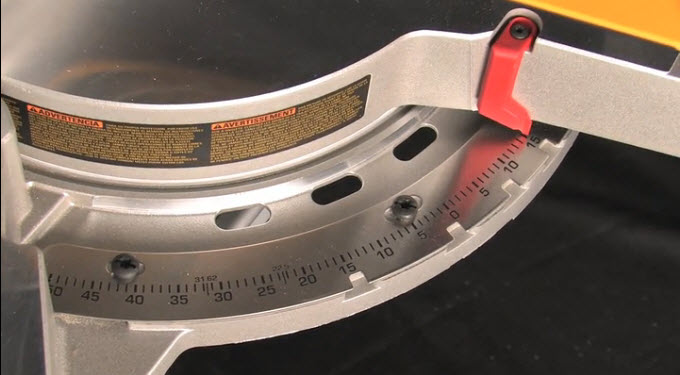 Overall Result:

This saw is a very good saw and went through our testing fairly easily. It holds its angles consistently and there are many great features that make this saw easy to work with and handle.
However, we did notice that sliding the saw while in the down position (while cutting) is not as easy as it should be. As we did not do a long term test of the saw we do not know if this will become a problem, however upon review of other review literature we see that the same problem has been identified and may become a problem. This would come into play when cutting any pieces that require the saw to be cut across a large plank for example.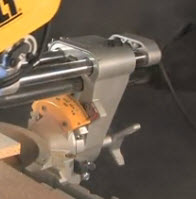 Apparently, since we didn't open it up, only one of the sides of the slide has real bearings, which are factory lubed and sealed. The other side of the slide only has two bronze bushing thrust bearings that are tightened or loosened by an adjustment screw. It seems that the bearings are not adequate to the job, or they just get gunked up from the dust.
So, whats the verdict? Again, for professional users, everything seems great except for the sticky slide issue. Getting around this issue by oiling once in a while is possible and not too much of a hassle. Besides that, there doesn't seem to be any problems that would make me avoid this Dewalt 780 miter saw.