Veneering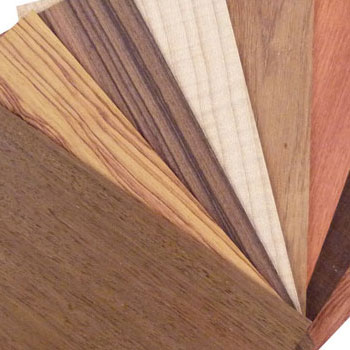 Veneers are thinly cut slices of wood, and veneering is the process of gluing veneers to a substrate. Basically, veneering allows a woodworker to cover inexpensive woods or other materials such as MDF, with a thin layer of expensive wood, thereby enhancing the look of a project (with highly figured grain patterns for example) while keeping the cost down.
Using veneers also has a positive ecological impact. There are many types of wood that would not be commercially available today if it were not for the use of veneers. Much more (surface area) material can be obtained from a tree by cutting it into veneers instead of into boards.
Many woodworkers still choose not to work with veneers however. Although it is not difficult to learn how to veneer, it does take some extra equipment and knowledge.
Mostly however, woodworkers who do not want to work with veneers have the perception that solid wood construction is superior than building a project that utilizes veneers.
Wood Veneer Types
Any type of wood can be sliced into veneer. Some veneers are more commercially available than others, but there are literally hundreds of veneers types to choose from.
But different types of veneer can be made depending on the way that the wood is sliced off of the log, these kinds of veneer cuts include, plain slicing, quarter slicing, rift cut, half-round, and rotary.
Plain Cut Veneer
Also known as flat cut, the veneer is sliced parallel to the center of the log. This creates high arches within the grain pattern of the center of the leaf, hence the 'cathedral effect', and straight grain towards the sides. It tends to recreate the look of solid lumber.

Quarter Slicing
Cuts are made perpendicular to the growth rings of the tree by cutting the log into quarters first. This creates a grain pattern that gives a highly linear look. It also enhances the flecks from the medullary rays in the wood if they exist (such as oak).
Rift Cut
This cutting pattern is mostly used with red and white oak species of trees. The log is sawn into quarters first, then sliced parallel to the center cut. This is to minimize the large ray flakes that can occur. Cutting a log this way creates a narrow striped pattern.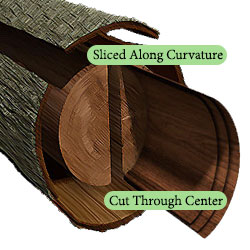 Half Round Cut
The log in split into halves through the center, then the veneer is sliced along a curvature parallel to that cut. The appearance is similar to a flat cut sheet of veneer.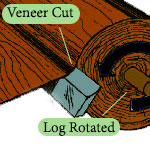 Rotary Cut Veneer
The log is turned on center and the veneer is sliced from the edge in a continuous way, like pulling a toilet paper roll. The sheets are large and have wide and varying grain pattern. It is used for most often for plywood.
Veneer Laying Techniques
Veneer leaves can be arranged in several different ways to achieve certain visual effects. These are the most common ways to match veneer leaves from a flitch..

Book Matching
Book matching, the most commonly used match in the veneering industry, is achieved by turning over every other piece of veneer so adjacent pieces or leaves are opened like pages of a book. Because the joints match, a mirrored symmetrical pattern is created. This yields maximum continuity of grain.
Book matching can be done with plain, quarter, or rift-sawn veneers. Because the faces alternate, this makes them reflect light and accept stain differently. This may yield a noticeable color variation in some species or flitches.
Slip Matching
Slip matching often is used with quarter-sliced and rift-sliced veneers. Adjoining leaves are placed in sequence without turning them over, resulting in all the same face sides being exposed. As a result, the grain figure repeats, but the joints don't show grain match.
The lack of grain match at the joints can be desirable. In the picture below, a non-straight grain pattern is shown, and depending on the results but usually the relatively straight grain patterns of quartered and rift veneers generally produce better results. It is also easier to achieve a uniform color because all faces have the same light reflection..
Random Matching
In random matching veneer leaves are placed next to each other in a random order and orientation. The randomly matched veneers gives a casual or rustic appearance, as though individual boards from a random pile were applied to the product. Conscious effort is made to mismatch the grain at joints.
End Matching
End matching often is used to extend the apparent length of available veneers for high wall panels and long conference tables. End matching can be done in two ways: architectural end match and panel end match.
Architectural end match leaves are individually book or slip matched, first end-to-end and then side-to-side, alternating end and side. This yields the best continuous grain patterns for length as well as width.
Panel end match leaves are book or slip matched on panel sub-assemblies, with sequenced sub-assemblies end matched, resulting in some modest cost savings on projects where applicable. For most species, panel end matching yields a pleasing, blended appearance and grain continuity.